Logistic shorter for packaging
Turnkey project for a logistic shorter for packaging
Layout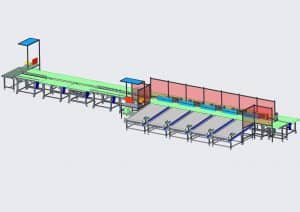 Scope of supply:
Conveyor systems
Belt conveyor. Model NT 100

Belt conveyor with extreme gearmotor
Belt conveyor with central gearmotor (bidireccional)

Roller conveyor. Model NT 200
CONTROL STATION
Belt conveyor equipped with weighing machine
Package measurement system
Barcode reader (5 faces) for destination assignment
ELECTRIC FIELD INSTALLATION
Photocells
Magnetic detectors
Signal distribution unit
PNEUMATIC FIELD INSTALLATION
ELECTRIC CABINET
SIEMENS PLC Programming
Frecuency inverter for gearmotors
SIEMENS HMI 12″ touchscreen
Remote control systems
SMART-SERVER
Bus: PROFINET
ACCESORIES
Working station with LED lighting, plugs, etc.
Picking table
Label printers
INSTALLATION AND COMMISSIONING
Assembly, installation, testing and commissioning at the customer's facilities in Italy.
Characteristics of the product to convey
Packaging: From 1 to 50 kg
Size: From envelopes to packages up to 1m³
Others