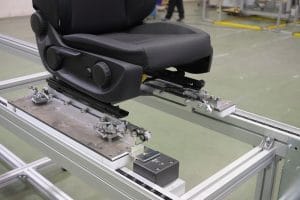 From NIKAI SYSTEMS we want to present our new design of high speed accumulation roller chain conveyor for pallets. Model NT 880 10
This type of conveyor can reach speeds of up to 50m / min, with pallets with a capacity of 100Kg / pallet transported on a closed chain. It is designed for low to have low friction reaching reduced noise volumes.
This type of conveyor supports accessories from the NIKAI SYSTEMS range such as:
NT 600 50: 90º transfer
NT 600 30: 90º or 180º turn table (independent or integrated in the main line)
NT 600 40/45: Elevator
NT 600 80/85: Autonomus or guided Shuttle
NT 850 15: Lifting, positioning and turn table 90º or 180º.
NT 850 30: Skid with tooling.
Pneumatic sttoppers and antibounce.
Etc
This type of lines is designed for assembly lines, where in each post a different operation is carried out on the product we transport.
For more info: https://nikaisl.com/en/products/accumulation-chain-roller-conveyor/